Workshop: The Voices and Faces Project presents "Our Stories Are Our Power" led by Marline Johnson and Caity-Shea Violette
June 8, 2019 from 2:30 pm

-

3:30 pm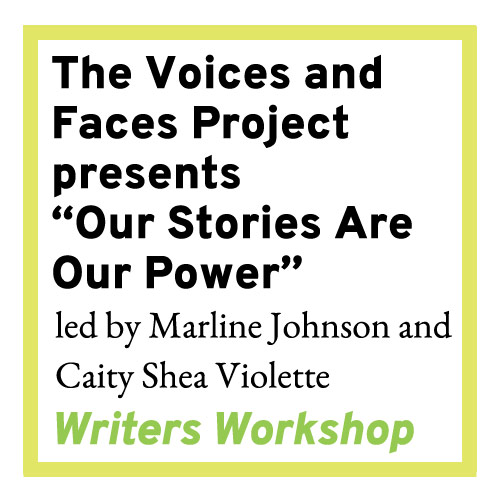 The Voices and Faces Project, an award-winning storytelling project, travels across North America and Africa to bring its immersive, two-day "Stories We Tell writing program to communities across the globe. At this year's Lit Fest, they'll debut "Our Stories Are Our Power," a one-hour mini-workshop geared toward youth (ages 13 – 25) who want to use their personal stories to create political change. Poets, fiction writers, spoken word artists, aspiring playwrights and any youth with a powerful story to tell (that's you!) are encouraged to attend.
An artist, art therapist, spoken-word poet, and activist, Marline Johnson grounds her work in the goal of making the invisible visible. In her art therapy Marline creates spaces that foster community dialogue on racial and gender inequality. "Art allows people to share as much or as little as we want with the world," she says. "It gives you a voice, and it gives you choice again, because oftentimes your choices are taken from you."Marline is an alumna of Connecticut College and earned a Master of Arts degree in Art Therapy from the School of the Art Institute of Chicago. She interned for several years with A Long Walk Home, a nonprofit devoted to using the performing arts to end violence against girls and women; and she now works as a Trainer at POSSE, the most renowned college access and youth leadership program in the country. As a 2017 Art Institute artist-in-residence in Homan Square, she guided citizens of North Lawndale in creating a communal mosaic mural exploring their experiences of race and class on Chicago's West Side. Marline draws on insights from art therapy in the work she does with young people in our programs for at-risk youth. "I learn so much about myself from working with young people," Marline says. "The process of making art collaboratively is pivotal for teens who are victims of violence. Everyone needs to know that they are not alone."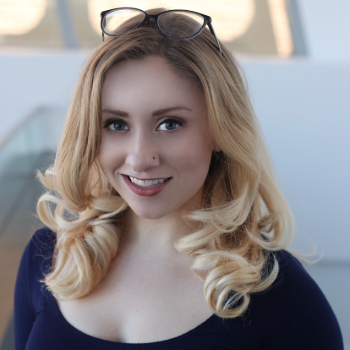 Caity-Shea Violette is a national award-winning playwright who makes stories about gender, complex trauma, and invisible disabilities accessible to wider audiences. She is currently pursuing her MFA in Playwriting at Boston University. Information about her work is available at www.caitysheaviolette.com
Don't forget to bring pen and paper!